Switch to original site

Details Today
| | | |
| --- | --- | --- |
| 246.40 | 0.98 % | 2.40 |
| High / Low | 247.60 | 242.00 |
| Vol / Time | 1,497,398 | 16:30 |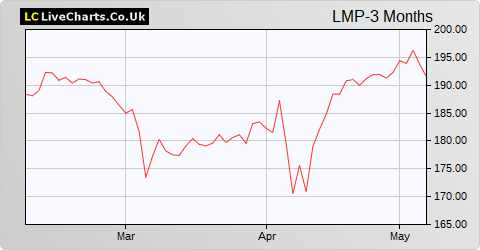 Search Share Prices
The company invests in commercial property, including office, retail and distribution real estate assets in the UK. However, it also says it would consider opportunities overseas if the scope for above-average returns was there. It was admitted to trading on the Main Market of the London Stock Exchange on 1st October 2010. It is run by real estate veterans Raymond Mould and Patrick Vaughan, who have both been involved in the UK property market since the 1970s.
LondonMetric Property - (LMP) share price history
Date
Open
High
Low
Close
Volume
16/05/2022
243.00
247.60
242.00
246.40
1,497,398
13/05/2022
238.20
244.00
237.00
244.00
1,917,079
12/05/2022
233.00
238.60
231.40
236.20
3,038,458
11/05/2022
238.20
239.20
233.90
237.20
2,503,948
10/05/2022
232.80
236.85
229.40
235.00
2,530,726
More LondonMetric Property History
Data for LondonMetric Property is end of day only and updates after midnight GMT. Data is gathered from historic databases such as Quandl and other reliable sources, however errors do occur. Please use for information purposes only.