Switch to original site

Details Today
| | | |
| --- | --- | --- |
| 204.00 | | 0.00 |
| High / Low | 206.86 | 202.60 |
| Vol / Time | 3,543,329 | 16:30 |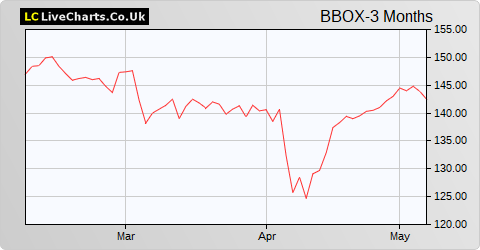 Search Share Prices
Tritax Big Box Reit specialists in investing in and funding the pre-let development of very large logistics facilities -- so-called Big Boxes -- in the UK. It is a real estate investment trust. Its key focus is creating growing and sustainable income through buying well -- quality assets that are attractively priced that will protect and grow capital value over the medium term. Where appropriate, Tritax said performance will be further underpinned by proactive asset management and the exploitation of market anomalies.
Latest BBOX News
Tritax Big Box Reit - (BBOX) share price history
Date
Open
High
Low
Close
Volume
16/05/2022
203.40
206.86
202.60
204.00
3,543,329
13/05/2022
200.20
204.00
197.28
204.00
3,862,537
12/05/2022
201.00
201.34
193.60
198.40
9,805,835
11/05/2022
199.70
206.00
199.60
205.80
9,845,028
10/05/2022
197.40
201.20
193.60
199.20
10,604,206
More Tritax Big Box Reit History
Data for Tritax Big Box Reit is end of day only and updates after midnight GMT. Data is gathered from historic databases such as Quandl and other reliable sources, however errors do occur. Please use for information purposes only.