Switch to original site

Details Today
| | | |
| --- | --- | --- |
| 318.80 | -1.85 % | -6.00 |
| High / Low | 327.80 | 316.30 |
| Vol / Time | 5,274,656 | 16:30 |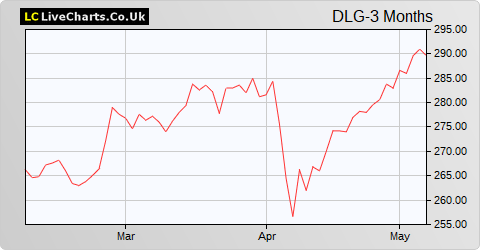 Search Share Prices
Insurance provider focused on the UK personal motor and home insurance market. Its roughly 10,000-strong staff serve clients online, by phone and indirectly through partners in its Commercial business, via brokers. Based in Bromley, it gained entry into the top flight index in September 2014, just over half a year after RBS sold its remaining stake in the outfit. Its brands include Direct Line, Privilege, Churchill, Brand Partners, NIG and Green Flag.
Direct Line Insurance Group - (DLG) share price history
Date
Open
High
Low
Close
Volume
25/02/2020
325.80
327.80
316.30
318.80
5,274,656
24/02/2020
328.60
330.70
323.30
324.80
4,340,794
21/02/2020
335.70
341.50
334.95
335.70
3,435,268
20/02/2020
342.20
345.40
336.00
336.00
5,741,542
19/02/2020
347.00
347.00
341.30
344.20
3,248,544
More Direct Line Insurance Group History
Data for Direct Line Insurance Group is end of day only and updates after midnight GMT. Data is gathered from historic databases such as Quandl and other reliable sources, however errors do occur. Please use for information purposes only.