Switch to original site

Details Today
| | | |
| --- | --- | --- |
| 49.82 | -2.31 % | -1.18 |
| High / Low | 51.00 | 49.02 |
| Vol / Time | 3,373,479 | 16:30 |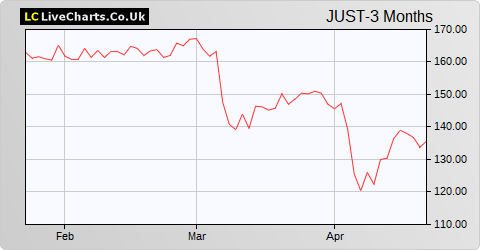 Search Share Prices
Specialist UK financial services outfit centred on the individual retirement income and defined benefit de-risking market. It was formed from the combination of Just Retirement Group and Partnership Assurance Group and caters to individual customers, financial intermediaries, corporate clients and pension scheme trustees. The company boasts of unrivalled intellectual property to help it deliver on its vision. It products for individuals include lifetime mortgages for those wishing to release some of the equity of their homes and protection products for people who have been declined by other insurers due to their medical conditions.
Latest JUST News
Just Group - (JUST) share price history
Date
Open
High
Low
Close
Volume
22/05/2020
50.50
51.00
49.02
49.82
3,373,479
21/05/2020
50.05
53.00
50.05
51.00
4,106,440
20/05/2020
50.58
52.15
49.80
51.20
2,236,053
19/05/2020
50.00
51.60
49.70
51.00
3,778,775
18/05/2020
50.00
50.00
48.90
49.96
9,865,111
More Just Group History
Data for Just Group is end of day only and updates after midnight GMT. Data is gathered from historic databases such as Quandl and other reliable sources, however errors do occur. Please use for information purposes only.