Switch to original site

Details Today
| | | |
| --- | --- | --- |
| 120.00 | -0.17 % | -0.20 |
| High / Low | 120.20 | 120.00 |
| Vol / Time | 1,706,853 | 16:30 |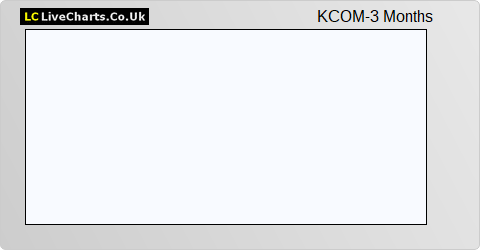 Search Share Prices
Fixed line telecommunications group KCOM delivers communications services and integrated information technology to businesses and consumers. Its Kcom business provides communications services for national multi-site enterprise and public sector organisations across the UK. It is an independent provider of these services, although supported by its BT wholesale partnership. The Kingston Communications business provides communications services to businesses and consumers in Hull and East Yorkshire. Eclipse Internet delivers a portfolio of internet based communications services which are designed to help small businesses and home based workers to exploit the power of the internet to achieve business success.
KCOM Group - (KCOM) share price history
Date
Open
High
Low
Close
Volume
31/07/2019
120.20
120.20
120.00
120.00
1,706,853
30/07/2019
120.20
120.20
120.00
120.20
462,010
29/07/2019
120.20
120.20
119.98
120.20
264,589
26/07/2019
120.20
120.20
120.00
120.00
130,686
25/07/2019
120.20
120.20
119.80
120.20
548,681
More KCOM Group History
Data for KCOM Group is end of day only and updates after midnight GMT. Data is gathered from historic databases such as Quandl and other reliable sources, however errors do occur. Please use for information purposes only.