Switch to original site

Details Today
| | | |
| --- | --- | --- |
| 226.80 | -1.39 % | -3.20 |
| High / Low | 234.60 | 226.80 |
| Vol / Time | 2,159,444 | 16:30 |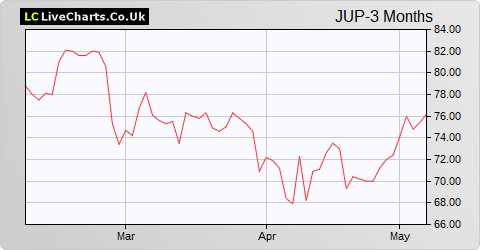 Search Share Prices
Jupiter Fund Management is a FTSE 250-listed financial services sector firm which manages assets on behalf of private and institutional investors. The firm, which employs several hundred staff currently has a market cap of just under £1bn. Its expertise is in the management of UK and offshore mutual funds, multi-manager products, hedge funds, institutional mandates and investment companies. The board is led by group chief executive Edward Bonham Carter.
Latest JUP News
Jupiter Fund Management - (JUP) share price history
Date
Open
High
Low
Close
Volume
31/07/2020
227.40
234.60
226.80
226.80
2,159,444
30/07/2020
239.40
239.40
228.80
230.00
2,478,976
29/07/2020
231.60
240.80
221.00
233.60
2,786,573
28/07/2020
227.40
238.32
227.40
231.60
1,524,550
27/07/2020
237.80
238.80
230.40
233.80
1,479,039
More Jupiter Fund Management History
Data for Jupiter Fund Management is end of day only and updates after midnight GMT. Data is gathered from historic databases such as Quandl and other reliable sources, however errors do occur. Please use for information purposes only.