Switch to original site

Details Today
| | | |
| --- | --- | --- |
| 683.00 | 2.71 % | 18.00 |
| High / Low | 683.00 | 665.00 |
| Vol / Time | 260,630 | 16:35 |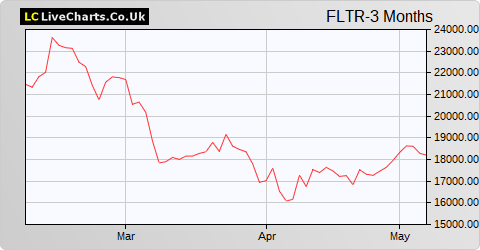 Search Share Prices
Demerged from Bunzl in June 2005, Filtrona is a support services group specialising in speciality plastic and fibre products. The UK-based group has offices and facilities spread over 22 countries. The group makes and distributes products such as self-adhesive tear tape and cigarette filters.
Latest FLTR News
Flutter Entertainment - (FLTR) share price history
Date
Open
High
Low
Close
Volume
15/07/2019
6,758.00
7,046.00
6,726.00
7,010.00
198,612
More Flutter Entertainment History
Data for Flutter Entertainment is end of day only and updates after midnight GMT. Data is gathered from historic databases such as Quandl and other reliable sources, however errors do occur. Please use for information purposes only.