Switch to original site

Details Today
| | | |
| --- | --- | --- |
| 368.80 | 2.33 % | 8.40 |
| High / Low | 370.80 | 355.40 |
| Vol / Time | 768,727 | 16:30 |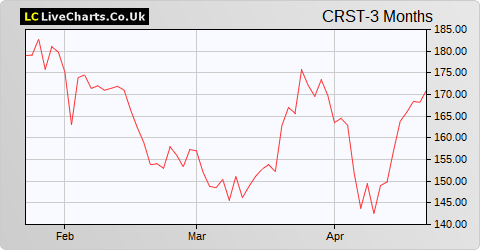 Search Share Prices
Crest Nicholson is a property developer with a focus on house building across the south of England. With a southern-based bias, the company had a has a track record spanning more than 50 years and a broad portfolio of developments. The company has five regional house building divisions, plus two further business units complement the regional divisions and provide specialist skills. These were Crest Nicholson Regeneration (Major Projects), and Crest Strategic Projects (Strategic Land).
Crest Nicholson Holdings - (CRST) share price history
Date
Open
High
Low
Close
Volume
15/11/2019
355.40
370.80
355.40
368.80
768,727
14/11/2019
363.60
365.40
358.12
360.40
418,564
13/11/2019
355.80
363.91
355.80
361.60
365,236
12/11/2019
367.20
368.40
362.20
364.40
410,056
11/11/2019
356.80
369.40
354.00
367.00
1,094,489
More Crest Nicholson Holdings History
Data for Crest Nicholson Holdings is end of day only and updates after midnight GMT. Data is gathered from historic databases such as Quandl and other reliable sources, however errors do occur. Please use for information purposes only.